Covr your Whole Home in Seamless Wi-Fi
Introducing Covr, the seamless Wi-Fi solution that's the perfect fit for your modern home. It blankets every square inch of your home with high speed AC1200 Dual-Band Wi-Fi. With Covr, you enjoy Wi-Fi that's stable, consistent, and truly seamless.
HIGH PERFORMANCE
With 1,200 Mbps Wi-Fi, MU-MIMO technologies, 2×3 (Rx) antenna at its core.
MORE COVERAGE
Covr's three discreet Covr Points cover up to 5000sq. Wi-Fi dead zones are now a thing of the past.

ONE SEAMLESS NETWORK
With Covr, there's just one wireless network name (SSID) for your entire home, no matter where you are.
Smart Roaming
Gone are the days of only being able to use Wi-Fi in certain areas of your home: Smart roaming lets you move around the house while always being connected to the strongest signal available. Forget about traditional Wi-Fi extenders which require you to connect to different networks as you move around, Covr ensures your entire home is covered by a single, seamless network.
Having one Wi-Fi name (SSID) means once you connect, your connection is seamlessly maintained as you and your wireless devices roam around your home. As you move from room to room and floor to floor you'll experience uninterrupted Wi-Fi. Buffering, drop-outs and deadspots are now a thing of the past.
COVER Wi-Fi that Meets Your Needs
Whether it's HD video streaming, video chats, or smart home devices, Covr responds to
the need forspeed in the modern home as consumers perform more data-intensive tasks on their
Wi-Fi connected devices.
Seamless Wi-Fi in Every Corner

Unlike other whole home Wi-Fi systems that use only 2 receiving antennas, Covr has 3 receiving antennas to detect and receive more data from all your devices. You enjoy seamless connectivity no matter where you are in the house.
MU-MIMO Technology
Like having multiple routers in your home,
Multi-User MIMO (MU-MIMO) sends data to
multiple devices simultaneously to increase
speed and efficiency.
Your laptop, tablet, media player and game
console can all receive data at the same time,
with no need to wait in turn. You get more out
of your home Wi-Fi network than ever before.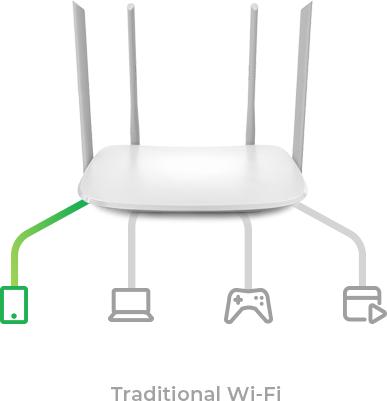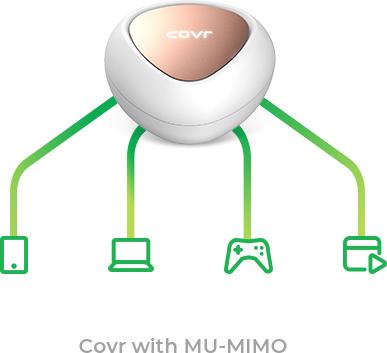 Smart Steering
Smart steering selects the best band for your device so that you get the best performance possible of all the time. With smart steering, Covr will automatically connect devices to the optimal Wi-Fi band and even move devices between Wi-Fi bands when the network experiences congestion. All this without dropouts, lag or any interruption to your wireless connection; and most importantly without you l ifting a finger.
Parental Control and Scheduling
The Parental Control feature can be used to restrict network access to client devices.
Schedules can also be set to give client devices access to the whole home network
at certain times.
Intuitive app and user interface
Easily setup and manage Covr from your smartphone or tablet using the D-Link Wi-Fi App.
Enabling parental controls, blocking unwanted devices,
and creating a Wi-Fi guest network is easier than ever with the intuitive user interface.
D-Link Wi-fi
Different colors suits different room.
Lazada
color_family
White
source
asc
Url
https://www.lazada.com.my/-i486002180-s835296527.html
Warranty Period
3 Years
warranty_type
Local Manufacturer Warranty
Whats in the box
Mandatory
Color Family
Highlight
Video URL
Warranty Period
Warranty Type
Whats in the box